I woke this morning to the sound of rain on my roof, which was good news for two reasons:

First, I love running in the rain. It rains so infrequently around here that the occasional showers don't become depressing. And in the character-building sense, I feel like mileage run in the rain deserves extra credit in some regard.

The main reason I got excited is that this weekend several of my running partners are joining me on a 2-hr trail run here in Carmel Valley. It's an annual event to celebrate the autumn season.

Towards the end of the run, the trail leads down to the Carmel River, and the runners have to cross without benefit of a bridge. The river is about 40' wide at this time of year, and when the water level is low in the summer, its fairly easy to hop from stone to stone and stay dry all the way across.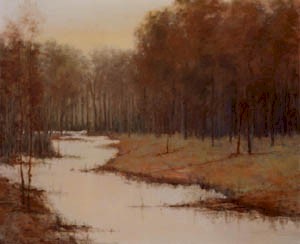 During the winter, the rocks will be completely submerged, and the river becomes impassable unless you wade in up to waist or chest level.

I like the crossing best during the transitional period of autumn, when the tops of the rocks peek out over the current, and you're never sure if the next crossing will be your last for the season.

That's when I invite my friends to run the trails with me. Occasionally some of them topple into the water, but the river is still shallow and the failed attempts are received with more applause then laughter.

The run instantly becomes more memorable when several people get their feet wet. But this year, the water level seems lower than usual, so I've been hoping for some rain to make the crossing more of a challenge.

And this morning it happened. So I went outside and did my 5 miles, and looked forward to celebrating the season again this weekend at the Carmel River crossing.